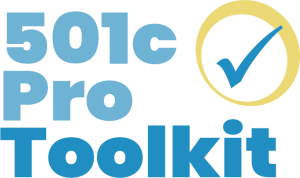 You've got important things to do. Like changing lives. That's why Nonprofits First created the 501c Pro Toolkit. When your organizational structure is sound, you can focus on the real work — delivering services, strategizing solutions, and gaining support for your cause.
The 501c Pro Toolkit is a comprehensive online self-assessment resource loaded with crucial information to ensure your organization meets legal requirements and implements best practices that are important to staff, clients, and donors.
The 501c Pro Toolkit's twelve modules cover critical nonprofit management topics and include standards, tools, templates, and helpful links:
Governing Documents
Board Governance
Strategic Planning
Risk Management
Fundraising
Human Resources
Volunteer / Intern Management
Financial Management and Reporting
Contractors and Consultants
Debit and Credit Cards
Toolkit users also receive assistance through the 501c Pro Helpline. You're only an email away from access to expertise from Nonprofits First's staff and widely recognized volunteer consultants.
"Thank you so much! I love the Toolkit and the support you all are providing!"
Coleen LaCosta, Executive Director
Speak Up For Kids
With so many resources available for building stronger nonprofits, why choose the 501c Pro Toolkit? Nonprofits First, a trusted leader in nonprofit excellence and accreditation, is also directly invested in our community circle and the success of your organization. The 501c Pro Toolkit furthers your achievement through continuous self-assessment and improvement exercises for staff and board.
Annual unlimited online access to the 501c Pro Toolkit is $500 per member organization and $750 per non-member organization.
Funders are encouraged to provide this resource to support their grantees. For information on purchasing Toolkit access for multiple organizations, email accreditation@nonprofitsfirst.org.
Thank You to Our Sponsors
Allegany Franciscan Ministries
Childrens Services Council
M&T Bank Wilmington Trust