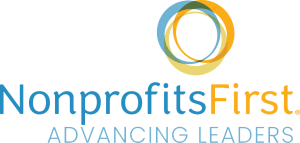 When you're ready for a deep dive into understanding and solving problems within nonprofit organizations, the Nonprofits First Advancing Leaders program is here for you. An extension of our successful Rising Leaders program, the Advancing Leaders education program is for nonprofit professionals who are in or moving into senior-level management positions in an organization
The program uses didactic instruction and panel discussions to drill down into the knowledge and skills needed for upper management, including nonprofit governance, data-driven leadership, finances and budgeting, HR laws and practices, development (including topics around fundraising and grant-writing as well as communicating the organization's mission and successes), and strategic leadership and innovation.
Ideal candidates are professionals who are in or moving into upper-level management positions in an organization.
The Advancing Leaders program consists of 6 full-day sessions, monthly from late February to July (one day may be a self-scheduled day).
Curriculum is presented by local, regional, and national expert instructors.
The program concludes with an evening graduation reception.
An organization may send one participant per year.
Individual tuition is $1,350 for Nonprofits First Members and $1,500 for nonmembers. Program tuition must be paid in full by the start of the first full session.
The application deadline is 5:00 p.m. on Friday, February 2, 2024.
Due to rolling acceptances, we encourage you to apply early.
Thank You to Our Sponsors
Allegany Franciscan Ministries
Childrens Services Council
M&T Bank Wilmington Trust